Posted By Renee McGivern on Sunday August 18, 2019
SABEWNYC19: Business reporting during an economic downturn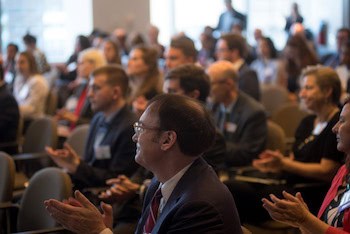 Is the nation's 10-year economic expansion running out of steam? Between the trade war and a slowing global economy, some economists think the U.S. might be headed toward recession.
SABEW's Fall Conference, scheduled for Tuesday, Nov. 12, will give journalists the tools they need to understand and report on an economic downturn.
Against the backdrop of a possible recession, conference sessions will look at trends in investing, health care, and personal finance. We'll also look at the growing role that news partnerships play as media organizations cover these big issues. The day will wrap with a chance to network with fellow business journalists over cocktails.
The conference is hosted by Reuters in Times Square, and in partnership with the National Endowment for Financial Education (NEFE).
Check out the evolving program schedule.
SABEW has secured a special rate at the  Hampton Inn Manhattan/Times Square Central (walking distance to Reuters). The rate is good until Sept. 23  or until the block sells out.
SABEWNYC19 Planning Committee
*Kim Quillen, business source editor, Chicago Tribune
Robert Barba, deputy spot news editor, The Wall Street Journal
Megan Davies, editor/reporter, Reuters
Matthew Goldberg, consumer banking reporter, Bankrate.com
Paul Golden, managing director of media and communications, NEFE
Glenn Hall, global chief, Dow Jones Newswires
Kevin Hall, chief economics correspondent, McClatchy Newspapers
Heather Long, economics correspondent, The Washington Post
James B. Nelson, business editor at Milwaukee Journal Sentinel; instructor at Marquette University
Caleb Silver, editor-in-chief & SVP content, Investopedia
Scott Wenger, group editorial director, SourceMedia
SABEW - Walter Cronkite School of Journalism and Mass Communication,
Arizona State University
555 North Central Ave, Suite 406 E, Phoenix, AZ 85004-1248

E-mail: [email protected]
©2001 - 2019 Society of American Business Editors and Writers, Inc.