Posted By Tess McLaughlin on Tuesday September 24, 2019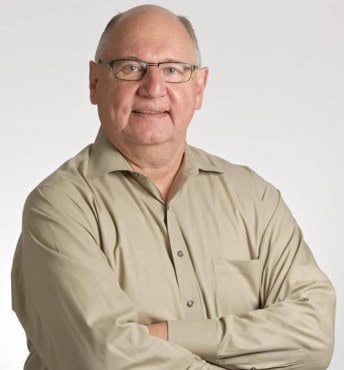 Former SABEW board member and president Greg McCune has announced his retirement after 43 years as a journalist.
"I intend to take some time to kick back with a  glass of red wine to toast a great run with my wife of 36 years, Pat," he said. "We are retiring to Manhattan, Kan., (the Little Apple) to be near both our extended families. I may eventually dabble in writing if inspiration strikes and might also look to teach the odd journalism course."
Greg started his career in 1976 as a reporter on grain markets at the Kansas City Board of Trade, working for what was then called Commodity News Services, later Knight-Ridder Financial News and finally Bridge News. He served as a commodity/financial markets reporter in Chicago, Sydney, Australia, and Washington over a span of eight years.
He moved to Reuters as a reporter on agriculture and trade policy in 1984. During his nearly three decades with the news agency, he moved from Washington to London covering commodity and financial markets, then Brussels covering the monetary negotiations that created the Euro, then Canada as chief correspondent based in Toronto and then back to Washington as Reuters bureau chief during the Clinton administration. He finally settled in Chicago, first as midwest bureau chief, then as a Reuters training editor for the Americas and finally as Midwest general news editor. In 2013 he left Reuters for The Associated Press.
Greg served on the SABEW board for six years and was president in 2009-2010 during the organization's move to Phoenix. "It was a terrible year for business journalism amid the Great Recession hemorrhaging newspaper jobs and with our profession under attack for supposedly failing to warn the world that a financial crisis loomed," he said. "I was frankly happy that we kept SABEW afloat amid the crisis. Our annual conference that year was in Denver just after the Rocky Mountain News closed, a red flag if ever there was one. But I'm proud that SABEW is now flourishing and grateful to my successors for making that happen."
Greg can be reached at [email protected].
SABEW - Walter Cronkite School of Journalism and Mass Communication,
Arizona State University
555 North Central Ave, Suite 406 E, Phoenix, AZ 85004-1248

E-mail: [email protected]
Phone: (602) 496-7862
©2001 - 2020 Society of American Business Editors and Writers, Inc.