Tuesday, April 14
2-3 p.m. EDT
Listen to the recording.
The full economic impact of the new coronavirus has yet to be seen. But workers are idled at companies large and small, travel is at a standstill, and a $2 trillion economic relief package is making assistance available directly to households. During SABEW's next teletraining session, we'll examine how the global outbreak is impacting business and the economy. We'll also talk about what the outlook is, and what some of the big story lines going forward will be for business journalists.
MODERATOR
Jim Tankersley, The New York Times
Jim Tankersley covers economic and tax policy for The New York Times. Over more than a decade covering politics and economics in Washington, he has written extensively about the stagnation of the American middle class and the decline of economic opportunity in wide swaths of the country. Jim was previously policy and politics editor at Vox and before that, an economics reporter for The Washington Post. He covered the 2008 presidential campaign for the Chicago Tribune and began his career working for The Oregonian, The Rocky Mountain News and The Toledo Blade. A native of McMinnville, Ore., Jim is a Stanford University graduate, an avid camper and backpacker and the father of a 13-year-old named Max.

PANELISTS
Robert Faturechi, ProPublica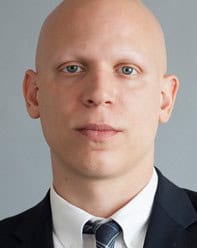 Robert Faturechi covers money in politics. At ProPublica, he has reported on self-dealing by political consultants, industry lobbyists blocking safety standards, corporate donors targeting state elections officials and political committees running afoul of the law. Before joining ProPublica, he was a reporter at The Los Angeles Times, where his work exposed inmate abuse, cronyism, secret cop cliques and wrongful jailings at the Los Angeles County Sheriff's Department. Robert grew up in Los Angeles and graduated from UCLA in 2008.

Suzanne Clark, U.S. Chamber of Commerce
Suzanne Clark is president of the U.S. Chamber of Commerce, the largest business federation in the world. She focuses on strategy, government relations and market innovation working in support of the group's more than 3 million member companies internationally. She leads a wide range of policy and operational initiatives and was the first senior executive vice president in the institution's 104-year history. Suzanne sits on the board of two public companies – AGCO, a Fortune 500 global leader in the design, manufacture and distribution of agricultural equipment, and TransUnion, a provider of global risk and credit information. Suzanne earned her bachelor's degree and an MBA from Georgetown University. Provided by Suzanne: Implementing a National Return to Work plan.
Rami Grunbaum, The Seattle Times

Rami Grunbaum is business editor of The Seattle Times, and oversees a staff of half a dozen journalists covering the hometown of Amazon, Microsoft, Nordstrom, Starbucks and Boeing's Commercial Airplanes division, among others. Grunbaum became business editor in 2016, having previously served as deputy business editor and as editor of Puget Sound Business Journal. Seattle Times coverage of Boeing's 737 MAX Crisis has recently been honored with a George Polk award, a Scripps Howard award and two SABEW Best in Business awards. Provided by Rami: Seattle Times stories discussed during training.