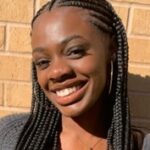 By Tierra Allen
As a full-time college student, I have many financial responsibilities.
I come from a single-parent household where funds have always been tight. In my junior year of high school, I started my first part-time job at a restaurant called Red Robin. I began using my own money to buy different things I wanted, like clothes or gifts. Soon, my mom helped me create my own bank account.
As my first year of college approached, I was still heavily dependent on my mom for financial support. Looking back, I would advise incoming college students to save as much as possible of their own money. There are many unexpected expenses that arise in college that why it is important to have a comfortable amount of money set aside.
College students are financially responsible for many things — clothes, utilities, food, the internet — and more. Yet, college students are unfamiliar with how to budget, manage money, or pay bills. It is crucial to divide spending money by putting some in a checking account, and the rest in savings.
College students must diligently decide what is worth splurging and what to save. Saving is imperative for not every want is a need. There are questions that need to be asked when comes to making smart decisions about money. Should I go out tonight? Do you need fast-food? Can I buy it later?
Where you put your money matters. Money management is possible for those you desire to achieve it. Therefore, I believe it necessary for college students to have their own independent bank account separate from their parents. They need to learn how to build their own foundation as they enter adulthood. It is beneficial to have a surplus of money for an emergency fund. "A survey of 8,000 U.S. workers, done by Willis Towers Watson in February 2020 found that 38%of employees were living paycheck to paycheck, and 39% could not come up with $3,000 in the event of an emergency (SABEW)." It is important to be prepared for the unexpected. That is why seeking out financial assistance is great from a trusted advisor, parent, or friend. It is great to obtain financial advice that will benefit your financial situation.
It can be difficult to make an emergency plan, but it is worth it in the long run. College students must learn how to delegate their money whether it's earning it or spending it. In this digital age, there are a variety of apps to help organize expenses and make payments. It is crucial to establish good spending habits early rather than later.
Findings from the National Student Financial Wellness Study, which surveyed 18,795 undergraduate students at 52 colleges and universities across the country, found that seven out of 10 college students feel stressed about their finances."  In creating financial stability, it is important to have a self-care budget as well as an outlet for relaxation. You not alone when struggling to gain financial stability as a college student.
Allen is a sophomore at the University of Missouri School of Journalism.