Weave our podcasts into your curriculum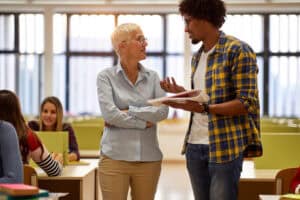 SABEW's Educator Committee is creating podcasts and occasional webinars for journalism educators.
Our latest podcast — On the Beat: A 3-episode podcast series with Best In Business Awards student winner Natalie Walters
The winner of SABEW's 2020 Student Journalism for Professional Media Outlets category discusses the prizewinning story, her Dallas Morning News internship that led to a full-time job, and best practices of using IRS 990 forms to report on the finances of nonprofit organizations.
     Behind the winning story: How COVID impacted 5 large U.S. nonprofits
     Making the most of your business news internship
     Deciphering IRS 990 forms when reporting on nonprofit organizations
The committee also organizes webinars to learn from and interact with working business journalists, including:
     The benefits of a career in business journalism
     Fact-checking for business journalists
Students can learn a great deal listening to award-winning business journalists discuss their best stories and reporting techniques. While SABEW's focus is on business reporting, the ideas and insights apply to reporting across many beats.
Send feedback or ideas to Desiree Hanford at Medill School of Journalism, Media and Integrated Marketing Communications.