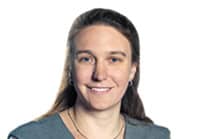 Cesca Antonelli was named editor-in-chief of Bloomberg BNA in 2018. She most recently served as a senior executive editor at Bloomberg News, where she was responsible for data visualization, graphics, and visual media.
At Bloomberg BNA, Cesca oversees an organization of 200 journalists with news desks covering law, tax, government, and environment — and a central news desk responsible for enterprise-wide functions, including a network of correspondents in the U.S. and across the globe, standards, training, social media, graphics, and audio/video.
Antonelli spent 19 years with Bloomberg News as a reporter and editor in five bureaus, and ran teams around the world.At Bloomberg News, Antonelli helped build the company news coverage in the Americas and throughout Europe, the Middle East and Africa. She was Washington bureau chief and managed the company's global "front page," Top Worldwide.
Before joining Bloomberg, she was a reporter at business newspapers in San Francisco and Pittsburgh.
Antonelli has a bachelor's degree in journalism and Latin American history from the University of Pittsburgh.
Follow Cesca on twitter @cescaantonelli.