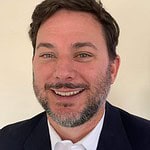 Tobin Ernst joined SABEW in August 2021 as the organization's Program and Content Director. He is responsible for leading all SABEW programs, including content production and distribution to publicize the organization's efforts, while developing and enhancing relationships with current and prospective SABEW partners.
Tobin has been working alongside journalists for more than 20 years, establishing strong relationships to drive communications programs across multiple sectors, including arts, education, entertainment, health and real estate. Prior to joining SABEW, he provided communications counsel, as well as enterprise development, media relations and event management support focusing on engaging audiences, building strategic alliances and collaborative partnerships. Tobin began his career in sports PR working with three professional hockey teams.
Tobin received a bachelor's degree in Journalism with a minor in Business Marketing at Arizona State University's Walter Cronkite School of Journalism and Mass Communication. He resides in Phoenix.
Contact Tobin:
Phone: (480) 322-3938
E-mail: ternst at sabew dot org