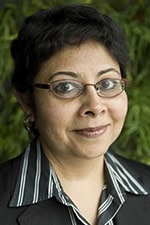 SABEW board member Shobhana Chandra, known as Sho to friends and colleagues, was an economics reporter for Bloomberg News when she passed away in February 2019. She was a highly respected mentor and leader within the tight-knit business and financial journalism community who shared her time and talent with the SABEW membership.
After her passing, SABEW started The Sho Fund to salute her legacy and honor her contributions to the profession and the organization.
The goal of The Sho Fund is to aspire to attract journalists of color and help them in their profession by supporting professional development opportunities.
Sho joined Bloomberg in 1998 and covered the U.S. economy, from jobs and consumer spending to manufacturing, trade, prices and housing. Previously, she worked in New Delhi for two of India's biggest business newspapers, Economic Times and Financial Express, around the time the South Asian economy was opening up to the rest of the world in a bigger way.
Sho was a member of the National Press Club, where she helped with editing the NPC's Wire and judging for scholarship awards. Her master's degrees include MSJ from Northwestern University's Medill School of Journalism, and MA in Economics from Delhi University, India.
If you would like to make a donation in memory of Sho, you can mail a check to:
SABEW
Walter Cronkite School of Journalism and Mass Communication
Arizona State University
555 North Central Ave., Suite 302
Phoenix, AZ 85004-1248
Or you can donate online, please designate your contribution to The Sho Fund in the designation drop-down menu selection.