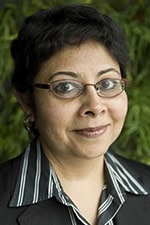 SABEW is saddened to report the death of board member Shobhana Chandra on February 20. Known as Sho to friends and colleagues, she served as an economics reporter for Washington-based Bloomberg News, which she joined in 1998.
Sho joined the SABEW board in 2015. Read more about her impressive career and volunteer efforts. View the video tribute produced by Brendan Murray.
Among those mourning Sho's passing and saluting her legacy is SABEW President Mark Hamrick, who noted the many reporters whom Sho helped to train and encourage. "As a SABEW board member, Sho was a remarkable, beloved and highly respected mentor and leader within the tight-knit business and financial journalism community. We mourn the loss of her friendship, high degree of professionalism, dedication, collegiality and sense of humor," said Hamrick, Washington bureau chief and senior economic analyst with Bankrate.com.
"Sho was a delightful colleague, both on the SABEW board and at Bloomberg News. Whether she was helping organize a conference or judging the Best in Business Awards, among so many other examples, she was ready to help. She was also always there with a friendly greeting or words of support. This is a great loss to both SABEW and the profession, but the many happy memories of Sho will live on," said Joanna Ossinger, markets editor at Bloomberg, former SABEW president and current Best in Business Awards contest chair.
"Sho brought an international perspective to the SABEW Board of Governors and was a well-liked member by everyone," said Kathleen Graham, executive director of SABEW. "She was an eager volunteer and shared her time and talent with the SABEW membership. Her contributions to the profession and the organization will be recognized at the SABEW spring conference at ASU's Walter Cronkite School of Journalism and Mass Communication, May 16-18."
SABEW sends its condolences to Sho's family, many friends and colleagues. If you would like to make a donation in memory of Sho, you can mail a check to:
SABEW
Walter Cronkite School of Journalism and Mass Communication
Arizona State University
555 North Central Ave., Suite 302
Phoenix, AZ 85004-1248
Or you can donate online, please designate your contribution in memory of Sho Chandra.