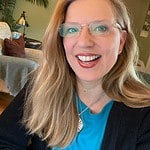 Cindy Perman, partnerships and editor of the "College Voices" series at CNBC.com.
Cindy Perman has been in business news for more than 20 years – all in digital. About 10 at WSJ.com and 10 at CNBC.com. Most of that time has been on a news desk, though also did a stint as commentary editor at CNBC and is currently working on CNBC's partnerships, primarily with Apple News and LinkedIn. She is also the editor of CNBC's "College Voices" series. She has appeared on CNBC, MSNBC and NBC's "The Today Show." She is also the author of the book, "New York Curiosities," and was co-host of the first two seasons of NJTV's "Drive-By History." She is a graduate of Syracuse University.
Follow her on Twitter @CindyPerman.