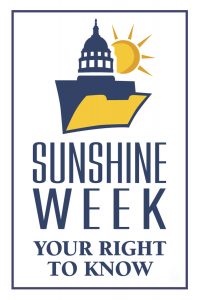 As the nation marks Sunshine Week 2020, the Society for Advancing Business Editing and Writing (SABEW) calls on federal, state and municipal governments to eliminate unnecessary delays in the production of documents requested under freedom of information laws.
Responses that take months, years and in some cases decades are undermining FOIA's central role in our democracy: to foster transparency and improve the public's understanding of the inner workings of their government.
Excessive delays in compliance with FOIA requests are getting worse. They occur in federal agencies, statehouses, town and city halls and school districts.
Some recent examples:
* The U.S. Department of Justice told CNBC that it will have to wait three-and-a-half years for documents about a private meeting between Jared Kushner, President Donald Trump's son-in-law, and Chinese business executives in 2017 during the president's visit to China. (Footnote #1)
* The administration of Oregon Gov. Kate Brown is relying on exceptions to the state's FOIA intended for small rural school districts or tiny cities with scant staffing to justify withholding records for nine weeks or longer. (Footnote #2)
* The administration of New York Gov. Andrew M. Cuomo routinely extends its response to FOIA requests by months and years with little explanation. Requests tied to Amazon's high-profile scrapping of a proposed headquarters in Queens have been delayed for more than a year. (Footnote #3)
* Arlington County, Virginia, has agreed to Amazon's request for notification before documents are released about the online retailer's proposed headquarters, which could slow FOIA response times. (Footnote #4)
Governments can do better.
We support legislative action to limit the time that a government agency can withhold documents for interagency consultation, and the imposition of meaningful penalties on agencies that fail to process requests within the required time.
Governments must devote more resources, both human and capital, to respond to the increased number of FOIA requests. They should invest in computer systems with search and processing functions that would help to speed the handling of FOIA requests.
U.S. Supreme Court Justice Stephen Breyer, in a dissenting opinion last year to the court's upholding of the denial of food stamp information from the Argus Leader newspaper, said governments are depriving "the public of information for reasons no better than convenience, skittishness or bureaucratic inertia."
We urge federal, state and local governments to end excessive delays when it comes to FOIA requests.
Sunshine Week  – It's Your Right to Know http://sunshineweek.org/