It's no secret that newsrooms across the country are examining their diversity practices when it comes to both coverage and their own hiring. And for good reason: It's essential that our coverage, and our news staffs, reflect the communities we cover.
Our industry, including SABEW, still has a great deal of work to do on the diversity front. But if you're like me, you came away from the virtual training session SABEW held earlier this month believing that the effort is at least underway. If you missed "Approaching the Business Beat with a Diverse Lens," moderated by Jacqueline Simmons of Bloomberg News, here's the video recording.
Toward the end of the session, the panel talked about the way different generations in the newsroom approach diversity. Young journalists, according to our panel, are often on the leading edge of fighting for change in the newsroom. "They are on fire," said panelist Tracy Jan, who covers the intersection of race and the economy for The Washington Post.
In that spirit, I'd like to introduce you to Sophie Austin. Sophie is editor-in-chief of The Eagle, the student newspaper at American University in Washington, D.C., where I got my master's in journalism.
Sophie became editor-in-chief at a time when Black Americans were being affected by the coronavirus at higher rates than other Americans, and just weeks before George Floyd died at the hands of police. Sophie also happens to be one of only a handful of Black journalists to have served as editor-in-chief in The Eagle's 95-year history, and it's a job she takes seriously.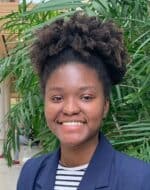 Under Sophie's leadership, her college news staff has been examining its coverage of marginalized communities and working to diversify its ranks by reaching out to groups that represent students of color. It's the same type of effort taking place at news outlets around the country. Sophie has also penned thoughtful Letters from the Editor about the value of a diverse news staff and the importance of transparency.
Sophie is the type of journalist we should be encouraging and supporting, and I was pleased that she was able to join many of our members in tuning in to this month's training session. I should also mention that Sophie spent this summer interning as the Emma Bowen Foundation Fellow at PolitiFact. She'll be on the job market next spring after graduating with a bachelor's in journalism, with minors in Spanish and environmental science. She's someone to watch.
Speaking of job hunting, I hope you've had a chance to read the excellent piece Beth Hunt wrote for SABEW on that subject. Beth is the director of editorial recruiting and development for American City Business Journals. She's also one of the best in the business and, I'm pleased to say, a friend of SABEW. Beth is the kind of person we should all have on speed dial during uncertain times. That type of access is not possible for all of us, but reading her piece is the next best thing.
Kim Quillen
2020 SABEW President
Chicago Tribune
kquillen@chicagotribune.com