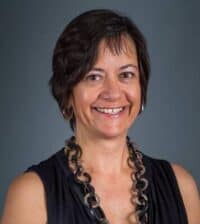 Are you a motivated female news mid-level news manager in search of advancement? SABEW wants to help you meet your professional goals and become your best self! We're offering 10 complimentary registrations to SABEW20 virtual conference on Nov. 17-20.  You'll also participate in an invitation-only specialized news leadership  development session facilitated by Lisa Gibbs, director of news partnerships at the Associated Press, on Thursday, Nov. 19, 4-5 p.m.
We are launching this new mid-career leadership program at the conference in honor of SABEW board member and Quartz Executive Editor Xana Antunes. Xana was dedicated to making sure that individual journalists had space to develop their skills even as they faced relentless change across the industry.  She also was focused on the gender gap in business news, and the need for more structured opportunities for female business journalists to advance their careers.
The mission of this new program is to help female news managers broaden their professional knowledge and sharpen their leadership skills including fostering a positive newsroom culture, motivating others to meet success, managing up, resolving newsroom conflict, managing change, overseeing budgets and achieving your goals.
If you are a mid-career female business journalist and would like to be a SABEW20 conference attendee, fill out the form below by Friday, Oct. 30. The recipients will be announced in early November.