Disruption in the news industry has brought pain — and opportunity. New voices and technologies have greatly expanded the ways journalists can find, report and present stories, yet training to master and experiment with new skills is something many news outlets can't or don't offer. Enterprising journalists who want to explore new paths in journalism can be stymied by the absence of money for pursuing new avenues, and by too few mentors to turn to for support along the way.
The goal of The Xana Fund is to smooth that path by supporting mid-career female business journalists looking to redirect and raise their career trajectories. This may be the economy reporter who wants to learn how to code. Or the mid-level editor at a large news organization looking to vault into senior leadership. Or the experienced manager who wants to start her own media company.
The Xana Fund will aim to fund these efforts, and build a community among grantees to encourage the cross-pollination of ideas and provide a pool of mentors.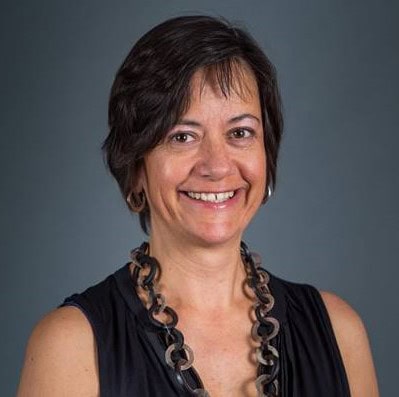 Xana Antunes was dedicated to making sure that individual journalists had space to develop their skills even as they faced relentless change across the industry.  She also was focused on the gender gap in business news, and the need for more structured opportunities for female business journalists to advance their careers.
The Xana Fund will work with other journalism organizations to help women pursue their goals, and will conduct research to uncover areas of need that current programs do not yet meet. It will approach this mission as its namesake would have, with open-mindedness, curiosity about innovative approaches, and a reluctance to be bound by what has come before.
When accepting the lifetime achievement award from the Newswomen's Club of New York in 2019, Antunes focused on this interplay between technological disruption and journalism's changing face:
"Disruption has also been clarifying. It's created enormous opportunities to reach so many more readers and viewers, to bypass traditional gatekeepers, and to find and support each other. Most importantly, it has allowed new voices to emerge and to be heard, and wow, they're impressive. The impact of newswomen has been transformative."
About Xana: Xana Antunes held executive editor roles at Quartz, CNBC Digital and Fortune CNN/Money.com. She was editor of Crain's New York Business and editor of the New York Post.  Antunes died in 2020 at age 55 from pancreatic cancer.
How to make a tax-deductible donation:
The fund is administered by SABEW, the Society for Advancing Business Editing and Writing, for which Xana was a board member. SABEW promotes excellence in business journalism.
Xana's family will match up to $15,000 of contributions to the The Xana Fund.
• Send a check made out to SABEW, designated The Xana Fund, to:
SABEW
P.O. Box 4
Fountainville, PA 18923
• Donate online  (designate "The Xana Fund" in the drop-down menu)