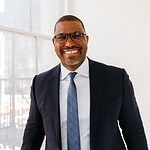 Romaine Bostick is co-anchor of `Bloomberg Markets: The Close,' the flagship afternoon program for Bloomberg's U.S. television lineup.
Prior to joining Bloomberg Television, Bostick helped lead cross-asset financial market coverage across all Bloomberg News platforms. He also helped foster and manage the Bloomberg terminal's TOPLive blogging platform as a newsroom editor.
With a background covering corporate finance, mortgage-backed securities and government policy, Bostick has orchestrated newsroom coverage of seminal events, including: the 2002 Tyco CEO scandal; the dawn of credit-default swaps; the 2007-08 financial crisis; the 2012 Affordable Care Act implementation; and the 2016 U.S. presidential election.
Bostick also spearheaded a data mining project on more than 45,000 companies globally to monitor anomalies in earnings and cash flow trends.
Prior to joining Bloomberg News 20 years ago, Bostick also covered global economics, stock markets, corporate finance, and politics during stints at Washington Post/Newsweek Interactive, the Kiplinger Editors, and the Arlington Heights (Illinois) Daily Herald.
A proud native of Chicago, Bostick has an undergraduate degree in journalism from the Medill school at Northwestern University in Evanston, Illinois.