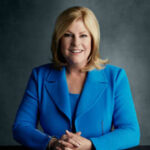 Sue Herera, one of the founding members of CNBC and anchor-at-large, received the Society for Advancing Business Editing and Writing's highest honor – its Distinguished Achievement Award – for 2021. The award is given to an individual who has made a significant impact on the field of business journalism and who has served as a nurturing influence on others in the profession.
Herera was honored during SABEW's annual virtual conference, SABEWOct2021, taking place Oct. 12-14. During her acceptance, she shared career insights with CNBC's Tyler Mathisen on Wednesday, October 13, from 4–4:30 p.m. EDT.
"It is an honor to receive this prestigious award and join such a distinguished group of journalists, all of whom have had such a profound impact on our world through their groundbreaking work. My sincerest thanks to SABEW for this award. I am humbled to receive it," said Herera. "I hope all of our collective works inspire young people to pursue the truth through journalism. It is a wonderful and noble profession and more important than ever before."
After 32 years with CNBC, Herera stepped back from her day-to-day on-air duties in February 2021. Most recently as a breaking news anchor, she provided regular news updates throughout CNBC's Business Day programming in addition to serving as the network's lead anchor for breaking news stories.
Herera was one of the first women to break into the world of broadcast business news, earning the nickname "The First Lady of Wall Street." She helped launch CNBC in 1989 and played a significant role in the network's growth over the next three decades. She has anchored multiple CNBC programs, including Power Lunch (2003 – 2015) and Business Center, CNBC's first daily program broadcast from the floor of the New York Stock Exchange, as well as Nightly Business Report, the evening program produced by CNBC for public television. Herera is also the author of "Women of the Street: Making It on Wall Street—The World's Toughest Business."
"Sue Herera is a true trailblazer and icon in our industry," said SABEW President Caleb Silver, and editor-in-chief of Investopedia. "She set the standards for great business journalism on television, and has inspired her colleagues, co-workers, fellow journalists and her viewers for years. She is also one of the kindest and smartest people in the business."
The SABEW Distinguished Achievement Award was established in 1993, when it was awarded to Hobart Rowan of The Washington Post. There have been 27 prior recipients.
SABEW is the world's largest association dedicated to business and financial journalism. Follow on Twitter @SABEW.