By Carah Jones
The cost of in-state tuition at the 13 public universities in the Southeastern Conference (SEC) averages $8,305 per academic year for each school, according to the Princeton Review.
As an in-state student at the University of Georgia, which is affiliated with the SEC for intercollegiate sports, my total tuition cost will average $882 per academic year by the time I graduate.
The discrepancy between my own tuition costs and tuition costs for the average in-state SEC student can be accredited to HOPE and Zell B. Miller (Zell) Scholarships, offered exclusively to high school seniors in Georgia.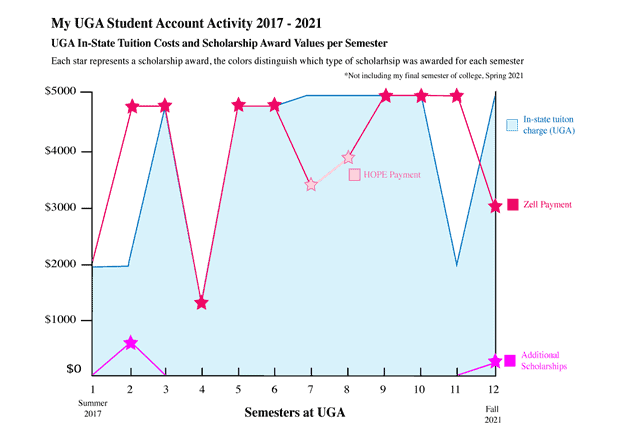 Accepted by Georgia's public universities, colleges, and technical institutions, these merit-based scholarships were implemented and developed by former Georgia governors Zell B. Miller and Nathan Deal and are financed by Georgia's state lottery.
HOPE, conceptualized and implemented during Gov. Miller's administration, covers a set percentage of tuition each semester. The percentage, determined annually by Georgia Student Finance Commission, is currently 85.83% for bachelor's degrees in 2021. Georgia high school seniors with a minimum 3.0 GPA are eligible for HOPE.
A scholarship honoring Miller was created as part of the HOPE program and implemented by Governor Deal in 201. It provides full college tuition for Georgia high school seniors who have a minimum 3.7 GPA, four rigorous credits such as Advanced Placement or Dual Enrollment and scored at least 1200 on the SAT or 26 on the ACT. For the rest of the article, HOPE will refer to both HOPE and Zell Miller Scholarships.
In fall 2014, the University System of Georgia reported that over 25,000 students began their freshman year with HOPE. Unfortunately, my dad was right when he said the only thing harder than getting a scholarship is keeping it. Only 12,089 of those students graduated with HOPE in Spring 2020 four years later.
Students must keep a minimum 3.0 GPA to maintain HOPE eligibility and a minimum 3.3 GPA to maintain Zell Miller eligibility throughout college. Luckily for me, students who lose Zell status by slipping below a 3.3 GPA continue to reap reduced HOPE benefits if their GPA is above 3.0. Students can also earn Zell Miller status back after one academic year if their GPA improves.
Education has always been central to my upbringing. My parents stressed the importance of higher education to me and my brothers often growing up, and they promised since we were little that they would financially support us through college if we put in the work to get accepted.
I will always be thankful to education reform leaders Miller and Deal who made it possible for me and my brothers to relieve a portion of that significant financial burden from our parents' promises. The former governors' legacies help keep financial and educational "hope" alive in Georgia.
Carah Jones is a journalism student at the University of Georgia.