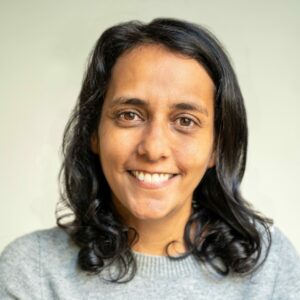 Nancy Farghalli is the executive producer of "Marketplace," a daily radio program hosted by Kai Ryssdal that reaches over 13 million people weekly.  As the executive producer, Nancy oversees all daily production and content of "Marketplace," guiding the show's series, specials and regular programming.
Prior to this role, Nancy held several positions throughout her time at Marketplace, including serving senior editor of the Wealth & Poverty Desk. In this position, she worked with a reporting team to cover social mobility, wealth disparity, and the economics of mobility. She created and produced the award-winning podcast, "The Uncertain Hour."  She has led production of live events, such as Marketplace's 2012 election tour and the 25th anniversary road show tour. She also collaborated with the BBC, Slate, The New York Times, and ProPublica on joint investigative and immersive series, focused on health care economics, immigration, and wage politics.
Nancy worked on the Emmy award-winning series "Big Sky, Big Money," a PBS FRONTLINE documentary about money in politics, produced in partnership with Marketplace. She is also a past recipient of a McCloy Fellowship in Journalism for the study of immigration economics and politics in Europe.