Those directly affected by the pandemic also had more problems paying their medical bills, according to a survey by The Commonwealth Fund.  Close to half of those in the survey said they had been directly affected by the pandemic in at least one of three ways: getting COVID-19, losing income, or losing employer health care coverage. One-third reported lost income. More than one-third of insured adults and half of uninsured adults reported they had problems paying medical bills or were paying off medical debt during the prior year.
Sara Collins, Vice President of Health Care Coverage and Access at The Commonwealth Fund, will discuss these and other findings and what they mean for a robust economic recovery in a virtual session.
This webinar is produced in partnership with The Commonwealth Fund.
---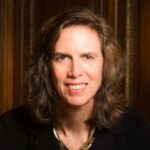 Sara R. Collins, Ph.D., is vice president for health care coverage and access at The Commonwealth Fund.  An economist, Dr. Collins directs the Fund's program on insurance coverage and access.  She also directs the Fund's research initiative on Tracking Health System Performance.
Since joining the Fund in 2002, Dr. Collins has led several multi-year national surveys on health insurance and authored numerous reports, issue briefs and journal articles on health insurance coverage, health reform, and the Affordable Care Act. She has provided invited testimony before several Congressional committees and subcommittees.
---
Register by completing the form below.