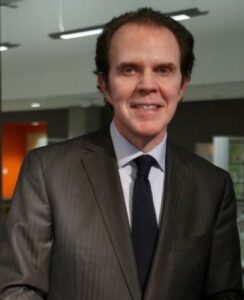 Andrew Leckey, recipient of Fulbright awards to China, Uganda and Taipei that focused on business journalism, is currently on the overseas speaker roster of the U.S. State Department. His business journalism career has included syndicated investment columnist, television anchor and educator. As a SABEW board member, he has been especially active in promoting international goals for SABEW, and actively recruits new business journalism members from overseas. Separately, he has also organized sessions for university students at SABEW events.
A long-time syndicated investment columnist for the Chicago Tribune and Los Angeles Times, Leckey was also an author and long-time broadcaster whose positions included CNBC anchor and reporter. He founded the Donald W. Reynolds National Center for Business Journalism and served concurrently as the Center's President and the Chair in Business Journalism at Arizona State University Walter Cronkite School until his retirement from both positions in 2020.
Leckey's accomplishments as Reynolds Center president included launching of the Barlett & Steele Awards for Investigative Business Journalism, the BusinessJournalism.org site and training sessions for thousands of professional journalists. The Center also partnered on projects with SABEW. As business journalism chair at Cronkite, he built an award-winning business journalism program that helped launch careers of young people now at news organizations in the U.S. and abroad.
Follow him on Twitter: @AndrewLeckey.