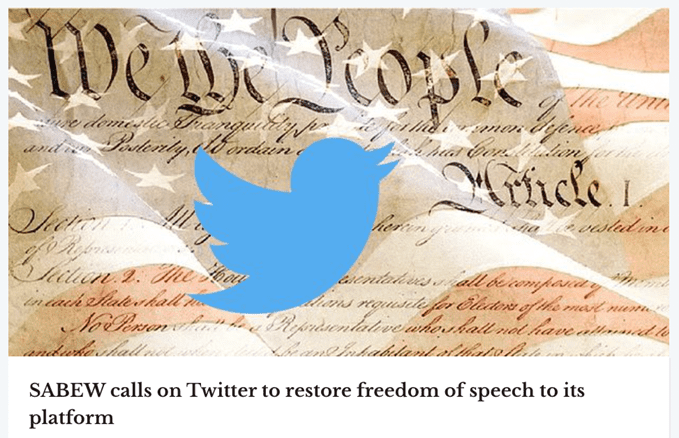 One of the things I love about SABEW is how much support our members provide to each other.
A great example is our First Amendment committee, which works vigilantly in defense of the independent journalism that democracy requires.
When Elon Musk recently sought to stifle the voices of select journalists on Twitter, SABEW's First Amendment committee sounded the alarm and called on Mr. Musk to restore freedom of speech to the platform. The committee, led by Chair Henry Dubroff, founder and editor of Pacific Coast Business Times, and Vice Chair James T. Madore, economics writer at Newsday, tweeted its statement in defense of SABEW members and other journalists, joining other free speech advocates calling on the Twitter CEO to reinstate the accounts of multiple journalists.
The very next day, Twitter backed down.
Over the past year, Henry and his volunteer team have stood up for SABEW members eight times, expressing concern over FOIA compliance in the U.S., denouncing Russia's new censorship law, and condemning attacks on journalists in Canada and Ukraine. The committee also supported Sunshine Week, World Press Freedom Day and Student Press Freedom Day.
For more color on the committee's work, I reached out to Henry and he shared the following details.
"The First Amendment Committee is an evolving experiment in advocacy on behalf of our members on free press issues. It was born out of a recognition that the financial press in the U.S. plays an increasingly important role in informing the public, but that our role depends on press protections that are constantly under threat.

Our main task has been issuing statements on issues ranging from the relatively rare arrest of business journalists to the obstruction freedom of information act requests.

We watch for breaking news on these topics – Twitter bans being the most recent example – and we rely on SABEW members to bring these issues to our attention.

We also put out statements in conjunction with Sunshine Week and World Press Freedom Day and we often coordinate with other journalism organizations, which helps to raise SABEW's profile. SABEW Executive Director Kathleen Graham is our rock for making sure we stay on track."
The First Amendment Committee has given SABEW a voice on press freedom issues. Now we are looking for ways to deliver that message beyond our membership. It's a big job and your ideas can help. Please send suggestions or feedback to ternst@sabew.org.
I'll wrap up this post with a shoutout to each of the committee members (listed below).Thank you all for representing SABEW's members so well!
First Amendment Committee Members
Matt Drange, senior correspondent, Business Insider
Kevin G. Hall, North America editor, Organized Crime and Corruption Reporting Project
Mark Hamrick, senior economic analyst, Washington Bureau chief, Bankrate
James B. Nelson, business editor, Milwaukee Journal Sentinel, instructor at Marquette University
Kim Quillen, business source editor, Chicago Tribune
Marty Steffens, SABEW Chair in business and financial journalism, University of Missouri
Clare Trapasso, deputy news editor, realtor.com
First Amendment Legal Counsel
Steven D. Zansberg, founder, Law Office of Steven D. Zansberg, LLC
SABEW Executive Committee Sponsor
Oliver Staley, senior business editor, Observer