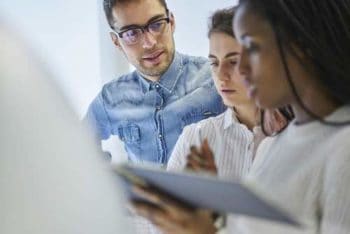 The Larry Birger Young Business Journalist Award is funded by a gift from rbb Communications of Miami, Fla., commemorating Birger. He was the former Miami Herald business editor who led SABEW as president in 1977. Birger was later a principal in rbb until his death in 1998.
This summer contest will be announced in late spring. The award will be decided by a panel of five judges – a SABEW officer and four others — and is presented at SABEW's fall conference.  An individual's body of work over a five-year period will be considered.
SABEW will award a cash prize of $1,500 plus a stipend towards travel expenses for a trip to SABEW's next conference where the award will be presented.
Who was Larry Birger?
Passionate about the importance of covering the local business community, Birger launched Business Monday at the Herald in July 1980, creating a publication whose format was copied by dozens of newspapers across the country.
"He was a guy who wasn't afraid to pound his fist on the table with the higher-ups to devote more resources to local business coverage,'' said David Satterfield, who worked as a reporter at the business section for Birger and later became business editor. "He was a very strong proponent of local business coverage."
He also mentored many. That aspect of his personality surprised Bruce Rubin after Birger became a partner in Rubin Barney & Birger the precursor to rbb in 1994. Rubin remembers young associates at the firm, many of whom had never worked at newspapers, spending sessions with Birger on Friday mornings in the conference room.
"You could have blown me over with a feather how the young kids and Larry liked each other," said Rubin.
Shortly after being diagnosed with cancer, Birger died Dec. 18, 1998, at age 71. The conference room at rbb still bears his name and a scholarship at the School of Business at the University of Miami was established in his honor.
Past Contest Winners
2019 – Matt Drange.
2018 – Alex Heath
2017 – Jillian Berman
2016 – William Alden
2015 – Cezary Podkul
2014 – Mina Kimes
About rbb Communications
rbb Communications sponsors the Birger Award. It is a leading integrated communications agency that champions breakout brands. Through proprietary research, rbb inspires companies with insights to create customer passion that delivers bottom line results. rbb offers media relations, digital marketing, influencer engagement, corporate communications, social media management and creative services/advertising. Specialty practices include consumer products/services, travel, health, entertainment, professional services, real estate, higher education and reputation management. With offices in Miami, Fort Lauderdale, New York and Los Angeles, the firm also has international reach across more than 100 cities in 50 countries through its partnership in PROI Worldwide, the largest global network of independent communications agencies. For more information, visit www.rbbcommunications.com or call (305) 448-7450.